Great Turnout for Northwest Room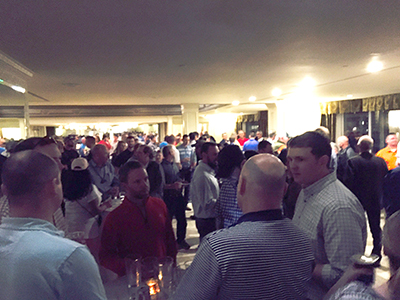 The room was almost packed, but the roof was open to the stars and a beautiful crescent moon over San Diego at the Northwest Hospitality Room on Wednesday night.
Plenty of Northwest friends gathered at the Bristol Hotel as the Golf Industry Show was in full swing at the nearby San Diego Convention Center.
It was another great chance to network with peers, which is what makes this event so vital.
WWGCSA president Michael Goldsberry was in the running for the GCSAA National Championship golf title at Torrey Pines South earlier in the week, but placing tied for 16th wasn't as important as another benefit.
"The best part about the golf at GIS is the networking," Goldsberry said. "I meet so many great guys from all over who will undoubtedly be friends of mine the rest of my career.  Too bad more of our local guys don't participate."
We did get plenty of participation from our sponsors for the Northwest Room, and we'd like to thank them.
Gold Sponsors—CPS Professional Products, Western Equipment, HD Fowler, RMT Equipment, Wilbur-Ellis, Pacific Golf & Turf, Grigg Brothers, Syngenta, Horizon Distributors.
Silver Sponsors—Amvac Environmental Products, Harco Fittings, Rain Bird.
Bronze Sponsors—Walrath Sand Products, Planet Turf, WinField Solutions, Aquatrols, BASF, The Andersons.
Alfie Looking for Your Vote
Alfie, who runs things at Willows Run as the lead dog for superintendent Ryan Semritc, is a candidate for 2016 Dog of the Year and will be looking for your vote at the Golf Industry Show in San Diego.
You can vote for Alfie by stopping by the LebanonTurf booth next week during the Golf Industry Show. If Alfie comes out on top in votes, Ryan will receive a $500 prize from Lebanon while the Western Washington Golf Course Superintendents Association will receive $3,000 and a $1,000 donation to the Train a Dog/Save a Warrior program will be made in Alfie's honor.
So, remember to vote for Alfie next week in San Diego.
Great Lineup Set for Spring Meeting
Dr. Bill Kreuser of the University of Nebraska and Bill Brown from Turf Republic highlight the list of speakers set for the WWGCSA Spring Chapter Meeting, scheduled for Thursday, March 10 at Meridian Valley Country Club in Kent.
Sean Reehoorn of Aldarra Golf Club, the chair of the Education Committee for the WWGCSA, has secured Dr. Kreuser to talk about growing degree days and PGR modeling. Mr. Brown will discuss digital job boards and social media for golf courses and superintendents.
Also on tap will be Ryan Riley of Ag Enterprise Supply who will do a demonstration of their new GPS sprayer.
Golf will follow the morning meeting. Look for an official registration form in the coming days.
Plenty of Changes in the Directory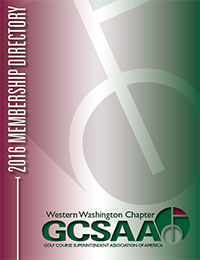 There has been plenty of personnel activity lately at golf courses in the WWGCSA region.
If you've had changes for yourself or at your course, please check our online directory to make sure we've got all the changes reflected properly.
You can access the directory by clicking here.
If changes need to be made, or if you need the password again, please contact Paul Ramsdell, the Executive Director of the WWGCSA at mpsparks90@aol.com or 253-219-8360.





Great Turnout, Time at Winter Meeting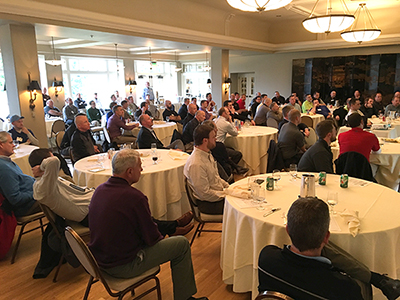 Thanks to all the attendees and speakers at our Winter Chapter Meeting as we had a great turnout to kick off the 2016 year.
The room was full at Broadmoor Golf Club to hear our line-up of speakers – Kevin Hicks from Coeur d'Alene Resort Golf Course, Joel Kachmarek from Tacoma Country & Golf Club, Jason Haines from Pender Harbour Golf Club and Sean Reehoorn from Aldarra Golf Club.
Make plans for our next Chapter event, Thursday, March 10 at Meridian Valley Country Club in Kent.
Call for Volunteers at Sahalee

Sahalee Country Club, the site of the KPMG Women's PGA Championship, is sending out an invitation for all those who would like to volunteer to assist the grounds crew at Sahalee with the women's major championship set for June 6-12.
Those interested can send their name and contact information to sahaleewomenspgavol@gmail.com.
For more information, click here for a letter from Sahalee Country Club.
OGCSA Names New Executive Director
Alexis Wenker has been named the new executive director of the Oregon Golf Course Superintendents Association, replacing the retiring Linda Whitworth.
Wenker is a past assistant superintendent at Oswego Lake Country Club and has 16 years of experience in the golf and landscape industry in Oregon. She has served as the chairperson of the OGCSA Assistant Golf Course Superintendent Committee.
In 2015, she became the director of the Oregon Turfgrass Foundation. She is married to Nolan Wenker, the superintendent at Langdon Farms Golf Course who is a past president of the OGCSA.
GCSAA Looking for "Ambassadors"
David Phipps, the GCSAA Field Representative for the Northwest region, is asking superintendents throughout his region to consider becoming GCSAA Grassroots Ambassadors.
This is part of a program where the GCSAA is trying to match up one superintendent with each member of Congress to make sure the value and expertise of the GCSAA is known by our country's policymakers.
Click here for a letter and full explanation of the program from David Phipps.





Dr. Roy Goss Dies After Battle With Cancer
Dr. Roy L. Goss, the most influential and generous person in the history of the Northwest Turfgrass Association, died Saturday after a six-week battle against prostate and spinal cancer.
Dr. Goss died at a cancer care facility in Wenatchee with his wife, Marcie, and other members of his family by his side.
Dr. Goss was a turfgrass specialist for Washington State University, conducting research and extension programs at the Puyallup facility of WSU.
He retired in 1988 after 30 years with WSU and many of his efforts have been widely recognized and adopted throughout the world. He was awarded the Distinguished Service Award by the Golf Course Superintendents Association of America (GCSAA) in 1978 and received the Green Section Award from the United States Golf Association in 1988.
The NTA exists today because of Dr. Goss' energy during the formulative years of the association and because of his financial contributions in his later years.
Goss' research over the years discovered that by managing fertilizer applications for all types of turf, including those used for sports fields and golf greens, diseases and fungi could be effectively minimized, thus reducing applications of fungicides and other treatments.
Goss also instituted the use of sand as the base for sports fields and putting greens to improve drainage and reduce damage from heavy use, significantly improving durability and reducing maintenance. His approach is the standard still used today.
Because of his dedication and his contributions, the research farm at the Puyallup facility was named the R.L. Goss Research Farm.
Roy was born in Weslaco, Texas in 1926 and received three degrees from WSU (BS Agriculture, B. of Education, PhD Agriculture).
Bandon Dunes to Receive OGCSA Honor
The Bandon Dunes Golf Resort in Oregon will receive the Michael S. Hindahl Environmental Award of Excellence from the Oregon Golf Course Superintendents Association at its annual environmental meeting that will be held Nov. 3 at The Oregon Golf Club.
Four of the five golf courses at Bandon Dunes are Audubon Cooperative Sanctuaries and the fifth will soon complete the requirements. In a recent carbon footprint study of the resort by Syngenta, it was concluded that the resort has an overall net reduction in carbon.
Information on attending the OGCSA Environmental Meeting is available by clicking here.



NTA Donates $61,000 to Research
The Board of Directors of the Northwest Turfgrass Association has voted to donate $61,000 to various turfgrass research and education projects in the Northwest, more than double what was awarded in 2014.
Every member of the Western Washington Golf Course Superintendents Association is automatically a member of the NTA with a portion of your WWGCSA dues going to the NTA.
The NTA grants will be spread out over five different research and education programs in the Northwest.
For 2015, the NTA Board of Directors has awarded the following research and education grants:
Exploration for Fungicide Alternative and Fungicides Mitigation
Oregon State University • $40,000
Compost Application on Golf Course Fairways
Washington State University – Puyallup • $10,000
First Green Links as Labs
First Green Foundation • $5,000
Cost and Playability Analysis of Synthetic and Natural Grass Athletic Fields
Oregon State University • $5,000
Bill Griffith Turfgrass Management Scholarship
Walla Walla Community College • $1,000
The $61,000 is the highest single-year amount awarded in quite some time for the NTA, surpassing the nearly $48,000 in 2013.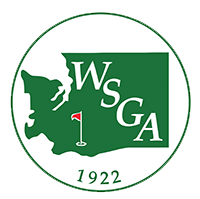 The NTA receives many generous donations that make these turfgrass grants possible. Leading the way is the Washington State Golf Association, which donates roughly $16,500 every year. Numerous private clubs, including Sahalee, Sand Point, Everett Golf & Country Club, Glendale and others, also make annual contributions to the NTA's Turf Universities Research Fund. From the recent Fivesome Tournament and Auction conducted by the WWGCSA, a contribution of $7,450 will be made to the fund.
More information and assistance in having a club or course donate directly to the NTA is available by contacting Paul Ramsdell, the Executive Director of the NTA, at mpsparks90@aol.com or 253-219-8360.