New Site, New Dates for WTLS
The Board of Directors of the Western Washington Golf Course Superintendents Association is happy to announce a new site and new dates for the 2015 version of the Washington Turf and Landscape Show.
In 2015, the event will move to the Lynnwood Convention Center, and will be held on Tuesday-Wednesday-Thursday, Dec. 8-9-10.
The facility at Lynnwood is conveniently located right next to Interstate 5 and offers a perfect combination of classrooms to facilitate the numerous educational sessions of the WTLS. And there is plenty of ample parking right at the location, which should eliminate numerous headaches of past editions of the WTLS.
Also, the Lynnwood Convention Center offers the WWGCSA the chance to set consistent dates year after year and the WWGCSA is looking to settle into a routine of the Tuesday-Wednesday-Thursday of the first full week of December.
Paul Ramsdell, the Executive Director of the WWGCSA, is available for any questions or concerns regarding this move. He is available at mpsparks90@aol.com or 253-219-8360.
WWGCSA Member Directory Complete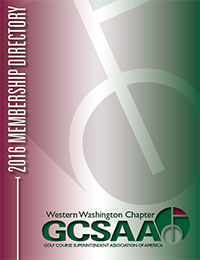 The all-encompassing membership directory of the Western Washington Golf Course Association is now complete and available to members of the WWGCSA.
The directory will be password protected and is only for the use of WWGCSA members. In order to protect the value of membership in the WWGCSA, please refrain from passing along the password on any form of social media.
The roster now includes retired members, honorary members and educators. Again, if any of your contact information needs to be updated, please contact Paul Ramsdell, the executive director of the WWGCSA, at mpsparks90@aol.com or 253-219-8360 with any changes. Also, we're missing a few phone numbers or email addresses, so please contact Paul if you have that information.
To access the directory, you will need a username and password. You can obtain that information by contacting Paul (mpsparks90@aol.com or 253-219-8360). This directory is for members only, and only members will be given the password.
You can click here to be taken to the directory at this time.
On the website, it will be permanently located under the "About the WWGCSA" tab.
Again, please contact Paul Ramsdell (mpsparks90@aol.com or 253-219-8360) with any questions.
Mark Calendars for February Events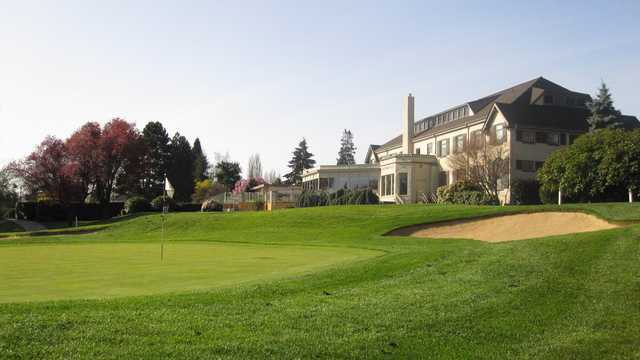 Two WWGCSA events in February will be worth noting and should be beneficial for superintendents and staffers alike.
First will be the Assistants Seminar, set for Thursday, Feb. 19 at Rainier Golf & Country Club. Speakers and educational sessions are being set up to help assistants, staffers, and even superintendents to better understand this business and how to be successful. Registration information will be available in the coming days.
Then everyone attending the Golf Industry Show in San Antonio should plan to join the five GCSAA chapters of the Northwest in the Northwest Room. The event is set for Wednesday, Feb. 25, from 6:30 p.m. to 9:30 p.m. at the Buckhorn Saloon, which is near the convention center in San Antonio.

GCSAA Seeks Input on Classifications
For years now, the GCSAA has been discussing membership classifications and standards in hopes of establishing more uniformity within its entire membership.
The GCSAA hopes to have a formal proposal ready in 2016, and informal discussion seminars will be held next month at the Golf Industry Show in San Antonio.
In the meantime, the GCSAA wants to register everyone's opinion through a survey.
Please consider completing this short survey to make sure the views of the Northwest are represented.
Time to Support American Lakes Veterans
It's time to hold onto your holiday spirit a little longer, and consider sharing any Christmas bonus with our veteran soldiers who have sacrificed so much to defend our way of life.
Operations Great Greens, a fund-raising campaign to buy a Greensmaster Triflex Hybrid 3320 greens mower for the American Lake Veterans Golf Course, is in need of a holiday boost.
Shawn Frisbee of Western Equipment is directing the campaign to raise funds for the mower, and he's doing it with the assistance of the Western Washington Golf Course Superintendents Association.
The American Lake Veterans Course has a great group of volunteers, but very few funds for new equipment. In the past year, the old equipment has caused damage to the greens and it's time to upgrade.
That's why we're leading the campaign.
We have set up an account through "Go Fund Me" to help us in the process.
You can visit gofundme.com/gwi87k to learn more about the needs at American Lake and the campaign to help.
You can also click here for more information from a flyer put together by Shawn Frisbee.
The WWGCSA started the process with $20 from everyone's registration fee at the Annual Meeting going toward the project. We were able to raise $660 that day at White Horse Golf Club. We're trying to total $33,000, so we have a long way to go.
So, visit the Go Fund Me link above, or if you have questions you can contact Shawn Frisbee at shawn.frisbee@western-equip.com or Paul Ramsdell, the Executive Director of the WWGCSA, at mpsparks90@aol.com or 253-219-8360.
Help Needed with Hard Hat Survey
Sean Reehoorn at Aldarra Golf Club is conducting a survey about the use of hard hats by crew members.
He has put together a short survey and comment section and asks for your input to complete the survey, which will take very little time.
If you can fill out this survey, and then email it to Sean at igrowgrass@hotmail.com, it would be much appreciated.
Goldsberry, Phelps Elected Officers
The Board of Directors of the Western Washington Golf Course Superintendents Association confirmed the appointment of two officers at its recent meeting.
President Jacob Close presented the appointments to the Board, which then confirmed them.
Michael Goldsberry, the superintendent at Wing Point Golf & Country Club, is the new vice president for the WWGCSA. Scott Phelps of The Golf Club at Newcastle is the new secretary/treasurer.
Eliminating POA Research Available
Washington State University's Dr. William Johnston, with assistance from Charles Golob, has produced a research paper regarding eliminating poa annua from fairways.
Click here to read, "Efficacy of 'Tenacity' in Late Spring to Eliminate Poa annua in Kentucky Bluegrass Fairways."
Jim Myers Reports on Delegates Meeting
Jim Myers, the superintendent at The Plateau Club in Sammamish, was the representative of the Western Washington Golf Course Superintendents Association at the GCSAA Chapter Delegates Meeting, held recently at GCSAA headquarters in Lawrence, Kansas.
Proposals from the Membership Standards Advisory Group dominated much of the discussion.
Click here to read Jim's complete report.
Tacoma C&GC Wins Crew Playoff Again
The team from Tacoma Country & Golf Club defended its Northwest Crew Tournament title on Monday, doing it on the road in Oregon.
Tacoma C&GC shot a 14-under 58 at the Willamette Valley Country Club in Canby to win by five strokes over Claremont Golf Club of Portland for its second consecutive title.
Playing for Tacoma C&GC were Richard Young, Joe Monteleone, Kevan Kenna and Miguel Hernandez.
The other WWGCSA representative, Wing Point Golf & Country Club, was not able to attend because of storm damage cleanup at its course.
Jacob Close Elected President
Jacob Close, the superintendent at Sudden Valley Golf & Country Club in Bellingham, was elected president of the Western Washington Golf Course Superintendents Association at its annual meeting.
Close has spent the past year as the vice-president of the WWGCSA under Steve Link of Skagit G&CC, who slides into the role of Past President.
Also at the annual meeting at White Horse Golf Club in Kingston, Michael Goldsberry of Wing Point G&CC and Greg Matz of Inglewood Golf Club were elected to three-year terms on the Board of Directors.
Shane Riley of WinField was elected to the one-year term as the Affiliate representative on the Board.
In a separate by-laws vote, the proposal was approved to change the term of the Assistant position on the Board from one year to two years. Josh Cheney of Glendale Country Club was then elected to the two-year Assistant position.
At the annual meeting, $40 of every registration fee was donated to two separate funds. Half of that went to the Joan Colleran 529 College Saving Account for the college education of Troy and Bryce, the two sons of the late Paul Colleran, the superintendent at Aldarra Golf Club. Anyone who wants to make additional donations may do so through Morgan Stanley, Attn: Matt Bridge, 500 108th Ave, NE, Suite 1900, Bellevue, WA 98004.
The other half went to the Operation Great Greens, a campaign headed by the WWGCSA to raise money for a new triplex greens mower at the American Lake Veterans Golf Course.
Wortinger Wins WWGCSA Golf Title
Chad Wortinger, the assistant superintendent at Bear Creek Country Club in Woodinville, fired a 5-over 77 on the 6,693-yard, par-72 White Horse Golf Club in Kingston to claim the title of Champion Golf of the Year for the WWGCSA.
On an afternoon when the sun finally broke through after days of rain, Wortinger went 38-39 on the difficult course, which had a rating of 73.4 and a slope of 141 from the black tees.
Wortinger had birdies on the 555-yard, par-5 14th and the 174-yard, par-3 17th hole and didn't suffer a double bogey on the breezy day.
WWGCSA Now on Twitter
You can now follow the WWGCSA on Twitter. We are set up with Paul Ramsdell @ExDirWWGCSA so follow us and keep up to date with what's going on with your association.
Bo Lacy Elected President of NTA
Britton (Bo) Lacy, CGCS, the superintendent at Tri-City Country Club in Kennewick, Wash., was elected president of the Northwest Turfgrass Association during a board meeting at the conclusion of the annual conference in October at Chambers Bay in University Place, Wash.
Lacy, who is near the completion of his term as president of the Inland Empire Golf Course Superintendents Association, will direct the association that funds turfgrass research and education programs throughout the Northwest for the next year.
Josh Lewis, the superintendent at Chambers Bay, was elected vice-president. Jason Habeck, the superintendent at Lewiston (Idaho) Golf & Country Club, was elected secretary and Carl Taylor of Western Equipment (Kent, Wash.) was elected treasurer.
In a vote of the membership during the annual conference, three new board members – Marcus Harness of White Horse Golf Club (Kingston, Wash.), Thaddeus Lalley of Everett (Wash.) G&CC and Steve Link of Skagit G&CC (Burlington, Wash.) – were elected to three-year terms.
A Poem in Memory of Paul Colleran
Many WWGCSA members were among the large gathering in Sammamish on Oct. 17 that paid their respects to Paul Colleran, the superintendent at Aldarra Golf Club who died earlier this month after battling brain cancer for nearly a year.
The family asks that any donations be made to the Joan Colleran 529 College Savings Account, an education fund for Paul's sons Troy and Bryce.
The donations can be mailed to:
Morgan Stanley
Attn: Matt Bridge
500 ­– 108th Ave NE, Suite 1900
Bellevue, WA 98004
The WWGCSA will be making a donation of $20 out of each entry fee for the annual meeting and golf championship, which now will be held Thursday, Oct. 23, at White Horse Golf Club in Kingston.
Dean Owen, the longtime equipment manager at Aldarra, composed this poem for his good friend Paul in his final days.
My friend Paul
Time has come to rest your head
The time has come it's true to see
Your work is through
Time has come to rest your head
The day has passed
Your mark is clear and aim is true
Time has come to rest your head
Your life is full
Your tasks fulfilled
Time has come to rest your head
Tomorrow waits
The tasks will come and go
Time has come to rest your head
Your heart is full of dreams
Your dreams fulfilled
Time has come to rest your head
The lives you touch
Forever will be enriched
Time has come to rest your head
Your feet are tired
Your back is sore
Time has come to rest your head
Thank you Lord
For the strength you give
The time has come to rest your head
~ Dean A. Owen
Target Products Offers Match to Ravensdale Bunker Sand
While the Western Washington source for the popular Ravensdale tan bunker sand might have dried up, golf course superintendents in this area don't have to look far to find a first-rate replacement.
Target Products out of Abbotsford, B.C., has tested both its Baja tan and Bimini tan bunker sands and both have been found to be excellent replacements and additions for Ravensdale tan sand, either during normal maintenance of bunkers, or in any major bunker projects.
Target Products, which is being represented by Scott "Sandman" Mitchell (604-614-7875 or SMitchell@TargetProducts.com) , has been a full-service supplier of golf course sand in British Columbia and beyond since 1984. Its staff of agronomists, engineers, chemists and field technicians have been providing quality blending services to dozens of golf courses, including Bear Mountain in Victoria, Blackhawk in Edmonton and Turtle Bay in Hawaii. And USGA specifications are guaranteed for Target Products bunker sands.
Target Products used two different firms—Hummel & Co., out of Trumansburg, N.Y., and ISTRC New Mix Lab out of Lenexa, Kan.—to do tests to determine the compatibility of its Baja and Bimini sands to the Ravensdale tan bunker sand.
The moisture content was found to be less with either the Baja or the Bimini as compared to the Ravensdale sand and particle shape and size parameters were classify as the same.
"The penetrometer tests that measure resistance to golf ball burying in four conditions were very similar among the Ravensdale sand, straight, and the two mixes. The color was the color of the Ravensdale," said the report out of ISTRC in Kansas.
"Based on the test results the mixes should play like the Ravensdale sand, straight," the report continued.
The test results from Hummel had this to say about the Baja sand from Target Products, "The sample was clean in that there was little slit and clay present. As a result, there was little crusting of the sand after wetting and drying. This means that bunkers with this sand in place may not require raking after rainfall or irrigation events."
The Hummel test also said the Baja sand had a penetrometer reading "suggesting a low tendency to bury the ball."
These tests indicate that both the Baja sand and the Bimini sand both blend well with Ravensdale sand and can serve as replacement sand to Ravensdale with little or no impact on playability and/or notice from the golfers.
Complete test results are available through Scott Mitchell, or contact Scott with any questions about these tan bunker sands from Harrison Lake, the largest lake in the southern Coast Mountains of British Columbia.
OSU Offers Video Research Update
Turfgrass researchers Dr. Alec Kowalewski and Clint Mattox at Oregon State University have put together a research update with the help of the OSU extension office.
Follow this link to watch, "The Long Game: Reducing Pesticides on Golf Courses" on youtube.com.

Volunteer Process Set for U.S. Open

Eric Johnson, the director of agronomy at Chambers Bay, and Josh Lewis, the superintendent, is asking anyone interested in volunteering to help the greens crew at Chambers Bay for the 2015 U.S. Open to please send your name, phone number and e-mail address to Rosie Odle at rodle@kempersports.com.
Please note that this is a seven-day commitment (Sunday to Sunday), and that food and uniforms are provided for the week, and Chambers Bay will be working on getting lodging solidified once it has an idea on the total volunteer numbers.
Johnson and Lewis thank everyone for their interest and support.
GHIN Handicap Club Back in Business

The Western Washington Golf Course Superintendents Association and the Washington State Golf Association are ready to offer handicaps to superintendents and members of their crews at reduced rates.
The rate for a GHIN handicap for a superintendent will be $18 and for members of their crew it will be $15.
Just e-mail a list of names of people who want to establish a handicap, or move their current handicaps to the WWGCSA Golf Club to Paul Ramsdell at mpsparks90@aol.com, or contact him at 253-219-8360 for more information.