Featured Articles
Lane Mountain offers 'Dial-A-Bunker-Sand' Program
(10.31.17)

Over the years, it's been either feast or famine for golf course superintendents in Western Washington when it comes to bunker sand.
For nearly three decades, Reserve Silica dominated and supplied the market with Ravensdale bunker sand. However, the pit closed down three years ago, and Reserve Silica pulled out, leaving superintendents scrambling for bunker sand the past couple of years.
To the rescue, and offering a feast of options and products, is Lane Mountain Company and Dave McNeil (425-501-8338; dhmcneil@aol.com).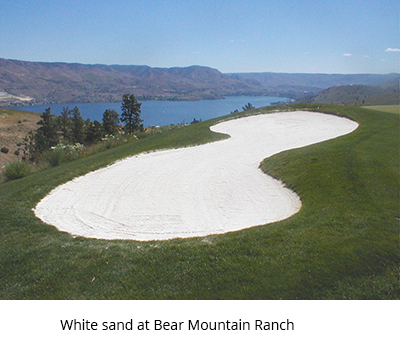 "I've gotten the best test results I've seen for any bunker sand, and I've been doing this for 30 years," said McNeil, who worked for Reserve Silica for 12 years. "I'm floored by the test results I've seen."
Lane Mountain's production facility is about 50 miles north of Spokane and offers a white sand that can mix with a brown sand from Idaho to deliver virtually any color and particle size imaginable. If a golf course and its clients are used to the Ravensdale tan sand and want to continue with that look and feel, it's easily doable for Lane Mountain and McNeil.
"We blend it in with our white sand in various percentages depending on the color you want and the playability you want," McNeil said.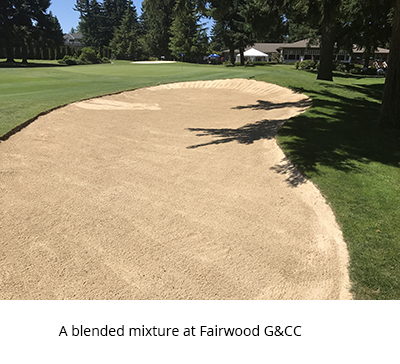 And if a course is looking for an entirely new bunker sand from what it has now, McNeil can handle any and all complete renovations.
The Lane Mountain tan sand has a penetrometer value at 2.8 kg/cm2 while the Ravensdale sand was a 2.4, and the higher value offers greater resistance to a fried-egg lie.
"The fried-egg lie, as you know, is terrible," McNeil said. "That's not what we want. We want a hit-and-skip reaction when the ball hits the sand."
The Lane Mountain sand has an infiltration rate of more than 120 inches per hour, which is compared to the 30- to 40-inch rate for Reserve Silica and the USGA standard calls for a minimum of 20 inches per hour. The bunker sand life increases with the higher infiltration rate.
All the various options of sand that Lane Mountain has to offer makes it fun for McNeil. Reserve Silica had a good product, but there were no variations available.
"We've got white, we've got tan, we've got firm, we've got soft," McNeil said.
"The sand I'm coming out with is custom-blended for maximum performance."
It gives superintendents and their golfers plenty of options if they are in the market for a complete renovation of their bunkers.
It also gives superintendents, such as Greg Hall of Fairwood Golf & Country Club in Renton, a chance to refurbish their existing bunkers while having little impact on their members.
"I had no more access to tan bunker sand, the Ravensdale stuff, and so we shopped around just like everyone else," Hall said of his predicament when Reserve Silica closed down.
He started working with McNeil and liked what he heard, especially the ability to come up with different mixtures.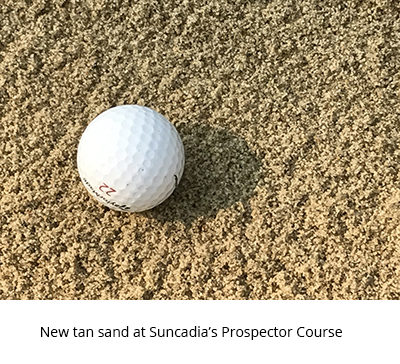 "I'm now using something a little more coarse than the Ravensdale and I'm using it on purpose because the Ravensdale tends to pack over time," Hall said. "I purposely put in something that was more coarse so we could get better drainage in the winter time and we can kind of fluff up the bunkers a little."
"He wanted to open up his sand a little bit, so we came up with a special blend just for him," McNeil said.
"He took one to two inches of our sand and raked it into the Ravensdale sand and it looks terrific," McNeil said. "He really loves it."

So, after a year of mixing the old Ravensdale sand with the new coarse mix from Lane Mountain, Hall plans to work with McNeil again.
"As we go forward, Dave and I are working on another mix, a different mix, a little more fine mix that ultimately is where I want to be," Hall said.
And Lane Mountain can easily provide the new mix. The blending capabilities can soften up firm bunkers or firm up soft bunkers.
"We've really got kind of a dial-a-bunker-sand kind of program," said McNeil, who has been creating bunker sand for 30 years and has considerable experience working with superintendents from all types of golf courses in all types of climates.
"The beauty of Dave's product is it doesn't matter how fluffy it is, you'll never get a fried egg," Hall said.
This article takes advantage of a sponsorship opportunity through the Western Washington Golf Course Superintendents Association. The WWGCSA will write up a Feature Article that can highlight your company or your product. More information on a Feature Article or the WWGCSA sponsorship program is available from Paul Ramsdell, the Executive Director of the WWGCSA, at mpsparks90@aol.com or 253-219-8360.