July 3, 2018
The 4-man team from Tacoma Country Club went to a lot of effort to lug the rather large traveling trophy up north to Willow's Run for the Annual Crew Tournament.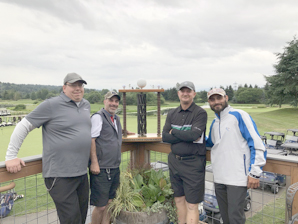 Turns out they ended up returning it from whence it came, as Tacoma's team of Miguel Hernandez, Kevan Kenna, Joe Monteleone, and Richard Young beat the field by four shots after carding a 55. Three teams finished tied for second with a 59, forcing a playoff won by Suncadia over North Shore Golf Club and one of the four teams representing Sahalee.
Tacoma Country Club repeats Crew Title at Willow's Run
In all, 31 teams competed at Willow's Run. Tacoma and Suncadia will go on to represent the Western Washington Crews in a competition versus the Oregon Crew Tournament winners sometime toward the end of the summer.
Many players, all of whom should know what they're talking about, were heard praising Superintendent Ryan Semritc and his team for the fantastic condition the course was in. The Willow's crew has certainly been busy, as it followed up the Crew tournament by hosting the USA Special Olympics golf event this July.